Intensive Driving Courses Colchester, Chelmsford and Essex
Welcome to the Justintensive website. We offer a complete start-to-finish organisation of intensive or semi-intensive driving lessons throughout Essex, but especially in the Colchester and Chelmsford areas. We will organise all the details - driving lessons, theory test, driving tests and, optionally, motorway experience once you have passed your test; all you have to decide is which course is right for you.
So whether you are a complete beginner looking to take a one week intensive driving course or two week semi-intensive driving course, or whether you have already taken a test and just need a refresher, then we have a course for you.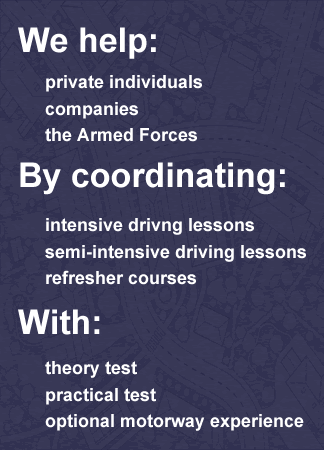 "Just 1 week and I can now drive, Fantastic! Thanks for making the whole experience so easy. And thanks to Dave, my instructor, for being so cool and patient and never once getting annoyed the whole week."
Mr G took a 1 week course in Colchester, Essex
Why Take a One Week Intensive Driving Course?
Traditional driving lessons take 1 or 2 hours every week taken over a period of months or in some cases years. This is not very cost effective when you consider that hourly rates average £25.
For non-intensive driving courses, someone taking a 1 hour driving lesson once a week for 35 weeks at £25 per hour will spend £875 for their driving lessons plus £62 for a practical test and £31 for the theory test. This is a total of £968, assuming that you pass each test first time.
If you take a 5 day intensive driving course, you will waste less time recapping what was learnt last week and so you can do the course in just 30 hours. The total cost of your driving lessons, theory test and driving test will be £820 saving you £148.
How Does it Work?
5 DAY INTENSIVE DRIVING COURSE : EXAMPLE
This 30 hour course is taken over one week (5 days) and will suit someone from a complete beginner to someone with 10 hours' experience.
On day one, your instructor will assess your driving ability and correct or cover any areas that need further instruction. This will continue through to the last day when you will then be ready for your test.
Areas Covered
We organise intensive or semi-intensive driving lessons throughout the Essex area and always ensure that part of your driving course is taken in and around the area where your test is booked.
Driving tests can be taken at Basildon, Brentwood, Chelmsford, Clacton-on-Sea, Colchester, Loughton, Southend-on-Sea or Tilbury.